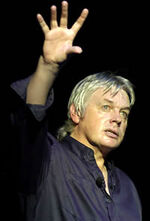 David Icke (born April 29, 1952) who is from England, is a former soccer player, reporter, BBC television sports presenter, and British Green Party national spokesperson.[1] Since 1990, he has been investigating and exposing the Illuminati, and their alleged mind-control scam. He also has something to say about lizard people and aliens.
There is a lot of controversy surrounding what Icke has to say, since many people want to label him as anti-Semetic to discredit his message which uncovers the supposed Reptilian conspiracy which has been on Earth since the times of Atlantis. Some may want to distance themselves from him because his far out ideas may discredit his more practical political viewpoints which he may share with other less outlandish folk.
Early History and Careers
David was born in Leicester, England, at around 6.15 pm on April 29th, 1952. He was brought up in what they call in Britain a "working class" family on a big council housing estate and money was short throughout his childhood. Icke wanted to be a professional soccer player for as long as he could remember and he achieved that by leaving school to play for Coventry City and Hereford United in the English league.[2]
Icke's professional soccer career did not last very long, however. In 1972, arthritis and great pain set into his joints - only six months after beginning his soccer careeer. He was only 20 at the time.
Uncovering the Conspiracy
Beliefs
Books by Icke
The Biggest Secret

...

And the Truth Shall Set You Free

I Am Me, I Am Free

Children of the Matrix

(ISBN 0953881016)

Alice in wonderland and the World Trade Center Disaster

Tales from the Time Loop

Infinite Love is the Only Truth, Everything Else Is An Illusion
Quotes
Footnotes
See Also
External Links
---
This article is a stub. You can help the Miriadic Wiki by expanding it.