Jurassic World: Dominion Dominates Fandom Wikis - The Loop
Play Sound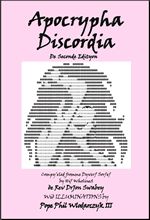 The Apocrypha Discordia was proposed by somebody who told or posted the idea to Steve Jackson, a long-time Discordian who at the time was running a Discordian discussion site. Jackson, who created the Illuminati card game, published Principia Discordia in 1994 and included a note about possibly publishing an Apocrypha Discordia, if they got enough material in the true Discordian spirit. In 1994, Reverend Loveshade, then known as Episkopos Loveshade, wrote some Discordian stuff and submitted it. After hearing nothing for quite a while, in 1995 the Rev allowed BloodStar to publish some of this material on a website as being from the Non-Existent Apocrypha Discordia. As far as we can tell, this was the first site to claim to have material from any version of Apocrypha Discordia.
In 2001, at the same time that a radical group was planning an attack on New York City and Washington D.C., the Apocrypha Discordia was compiled by the Rev. DrJon Swabey and illuminated by Pope Phil Wlodarczyk III with a lot of cool stuff by too many people to list here. But it did include a mention of BloodStar and material by Reverend Loveshade. This did wonders for their egos. It also created an irony in that material that the Rev had long claimed was from the non-existent Apocrypha Discordia was now in the existent Apocrypha Discordia. Later these were translated into German, becoming part of Apocrypha Diskordia.
(Note that "Five Blind Men and an Elephant" appeared in the both the original 1995 online edition and the 2001 printed edition of Apocrypha Discordia.)
External Links
[
]
---
This article is a stub. You can help the Miriadic Wiki by expanding it.