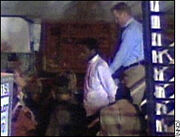 Aaron Amartei Commey
is known for trying to take hostages with a 9mm gun on July 27, 2000 on a National Airlines Boeing 757, headed for Las Vegas, and demanding to be taken to Miami, Antarctica, or Argentina, and to speak to the Argentinan ambassador, Guillermo McGough. He had apparently been calling the Argentinian consulate for several weeks prior to this incident. There was a news story leaked that he was concerned about
human cloning
that was being done by Americans. The incident began about 10 p.m. EDT at Terminal 4, Gate 33 at John F. Kennedy Airport near New York City. He was eventually led off the plane at 3:30 the next morning.
The then 22, Commey, was arraigned in Brooklyn the following day, where he was ordered held without bail on charges of attempted aircraft piracy. Commey was also supposed to have been given a psychiatric evaluation, but nothing more has been heard about him, or of this whole incident since. His father, Samuel Commey, commented that he had not seen his son in four years, and that he may have mental problems. He was raised in New York but had been living in Milwaukee before the incident.
He admitted to the police that he "he had been planning to take over an airplane for several months and he would have used a handgun and knife that he was carrying against anyone who resisted."
The connection of this to the events of September 11th are to be explored.
External Links
Edit
---
This article is a stub. You can help the Miriadic Wiki by expanding it.
Community content is available under
CC-BY-SA
unless otherwise noted.